Few things are quite as relaxing as sitting on a deck with your friends and a cold drink in hand on a summer's afternoon. Yet actually building a deck is still just a dream of many. And while the nine amazing decks below might always be just a dream for most of us, they are sure to give you plenty of motivation and great ideas for building an affordable backyard oasis of your very own.

1. The Multi-tasker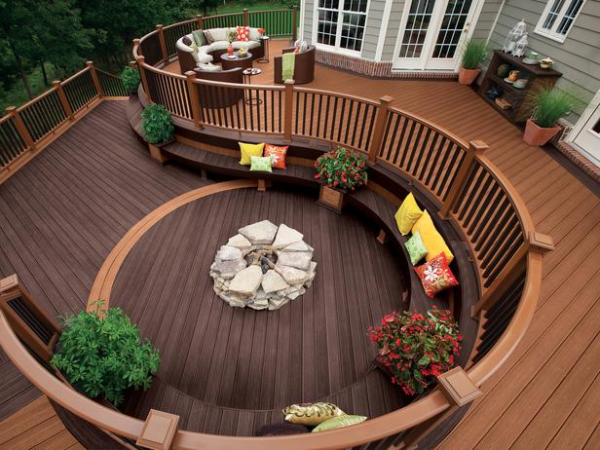 This one-of-a-kind backyard deck kills several birds with one stone. It offers a great place for gatherings, both large and small, and a covered area for rainy days. The best deck designs incorporate spaces for talking, dining, and playing like the one above.
2. The Circular Deck
Today's outdoor gathering spaces aren't just limited to a single floor or a simple rectangular design. You see more and more funky decks like this one popping up. We particularly like the curved seating area in the background, the expansive bar to the right, and the fire pit with circular seating in the foreground.
3. The Cozy Deck
This amazing deck is perfect for those that live in rainy areas. Its completely covered design and large fireplace makes it perfect for any season. Adding outdoor lighting to your deck can help set the mood and keep the party going later.
4. The Pool Deck
A backyard deck with its own built-in pool…what is more amazing than that? This deck is both functional and beautiful in design. If you are planning on installing a pool in your yard, it might be worthwhile to consider building (or expanding) a deck around it.
5. The Outdoor Living Room
Decks that incorporate greenery into their design are the best. You can take several notes from this deck for its inclusion of two well-planned planters. We also like the step up to the seating area and the stylish railing surrounding the entire platform.
6. The Custom Wood Deck
Is there a tree located right where you were planning to build your home deck? There is no reason to cut it down. Instead, consider including it in the design like the owners of this amazing deck. The tree creates an excellent talking piece, looks great, and provides a fun area for kids to play.
7. The Hot Tub Deck
It might not include a pool but a backyard deck that houses a hot tub is just as good in our book. You can tell just by looking at this amazing deck that it was built by the hands of an amazing craftsman. We especially like the covered design so you can enjoy a nice, long soak (as well as the view) at any time of the year.
8. The Patio Garden
Why opt for a deck that looks like every other one when you can build something as unique and eye-catching as this? This amazing deck is definitely more stylish than most while still retaining its comfort and functionality.
9. The Modern Comfort Deck
When it comes down to it, your backyard deck is all about comfort. It is a spot to relax at the end of the day, meet with friends on the weekends, and entertain family during special occasions. A deck like the one above puts comfort first by creating a warm and inviting atmosphere. The soft lighting and inclusion of throw pillows really set the mood.